****NEW****
REDISCOVER DECISION-MAKING
A practical guide for agile coaches, facilitators, consultants, project managers and anyone who wants to help make better decisions. 
A genuinely novel concept for improving decision-making processes.
Helps to involve all stakeholders and thus make better decisions.
(...) makes decision-making processes more collaborative and better.
A PRACTITIONER'S HANDBOOK
MAKE A REAL DIFFERENCE WITH HUMAN-CENTERED PROJECT DESIGN
Great practices, inspiring stories, and the complete methodology of the Project Canvas. Including detailed workshop guidelines.
The book can also be ordered from your local book store.
ISBN 978-3-00-060781-3
"Easy to understand and apply ad hoc. By working with the Project Canvas people create something together - with all perspectives involved."
"The Project Canvas is an indispensable aid in quickly generating a common understanding of projects."
"The tools from Over the Fence make projects more agile and more customer-oriented."
"The concepts and methods from Over the Fence help people thinking together and deciding autonomously."
"Working together with the Project Canvas is simply the best way for a diverse group of people to start a new project."
A TOOLBOX FOR CHANGE-MAKERS
CREATE PROJECTS THAT MAKE YOUR CUSTOMERS HAPPY
25 thinking tools for customer-centered project design. Benefit from proven practices, and utilize wisdom from various disciplines (agility, design, management, leadership, etc.)
The book can also be ordered from your local book store.
ISBN 978-3-00-055576-3
With best wishes from the authors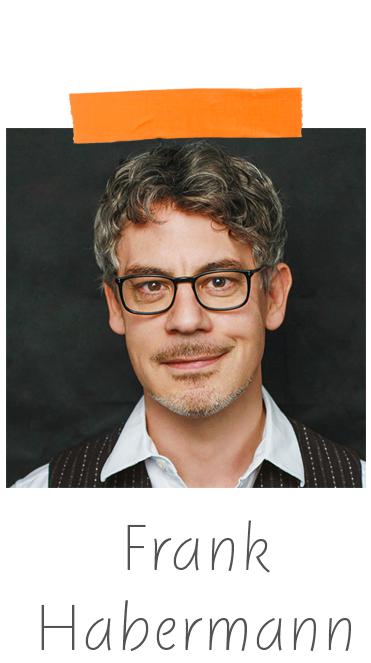 "My working life started with an apprenticeship at Mercedes Benz, the car manufacturer. Afterwards, I studied business, became consultant, manager, entrepreneur, and professor (in this sequence), had a hell of fun with an awesome crowd of highly passionate people, survived more than 50 projects in over 20 countries, and eventually found my cause in purposefully connecting people from different cultures, disciplines, and professions."
Frank on LinkedIn
"I am leading Change Punk® radically honest organizational development for leaders, who want to ignite positive change in warp speed. With over two decades of management and consulting experience, I help you uncover your blind spots and focus on what truly matters. Without radical honesty, it's all just hot air! And it doesn't hurt a bit. Don't take my word for it—give it a shot yourself." Karen on LinkedIn.